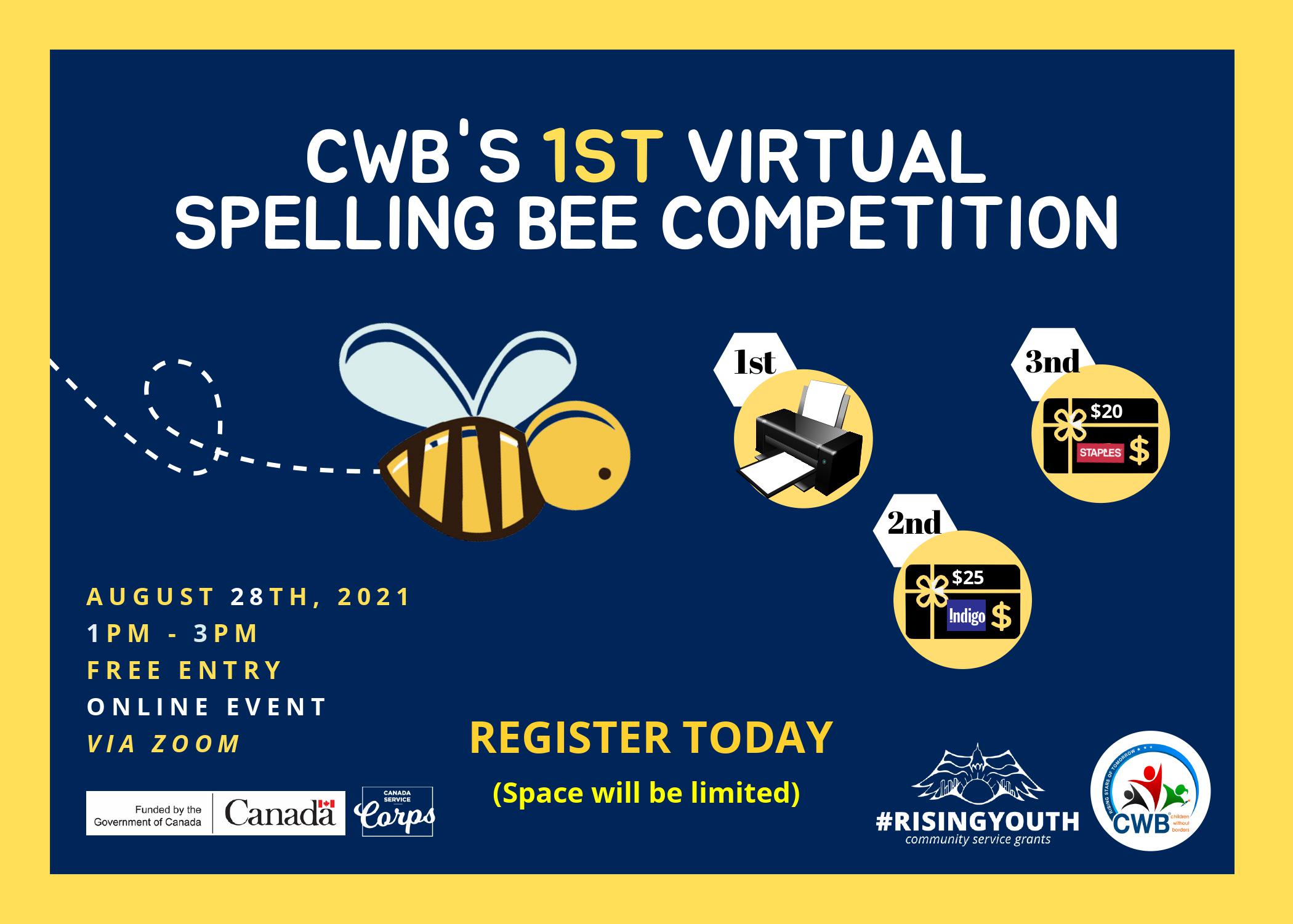 About this event
Our goal is to promote the importance of education among youth while bringing participants of various communities under one roof. Spelling Bee will be a challenging and competitive competition that will increase the participant's confidence and improve their spellings.
Pre-Competition:
This virtual competition will be held for students from Grade 1 to Grade 8 via Zoom Meet and will be grouped into three categories.
Primary (Grade 1-3)
Junior (Grade 4-6)
Intermediate (Grade 7-8)
Once registered, CWB members will email a copy of the practice booklet that consists of 90-100 words. The earlier you register, the more practice time your child/ren will have.
Competition Day:
Virtual check-ins will begin at 12:45 p.m. The competition is scheduled to begin at 1:00 p.m for every category as scheduled.
Panelists:
We will be having certified teachers in the judge's panel for this competition. In addition to having 3 judges, we will also have 3 recorders. One recorder per category will be recording the spelling of the word given by the participant while the second recorder will be monitoring the timing. Each participant will have 25 seconds to spell the word.
Prizes:
Each category will have the top 3 winners. The prizes for 1st place winners will be printers, 2nd place winners will be awarded with $25 Indigo Gift Cards and 3rd place winners will be awarded with $20 Staples Gift Cards for back to school shopping!
In addition, each participant will receive a "Certificate of Participation"
Thank you to #RisingYouth, TakingITGlobal, the Government of Canada, and Canada Service Corps for generously supporting this project!
Do you have a simple project idea to support your community? TakingITGlobal is looking to support youth who are inspired with ideas and ready to take action through their youth-led community service grants.
Apply for a #RisingYouth grant today at www.risingyouth.ca!